Becoming your own boss
February 7th 2011
I went to a really good event this week called "Managing Directly – Becoming your own boss" hosted by WiM and Milton Keynes & North Bucks Chamber of Commerce. It was targeted at women looking at starting a business. I've been running my own business full-time for 3 years now (+ another 4 yrs part-time) but I still feel I have so much to learn.
The first presentation was by Rita Spada, a business woman with over 2 decades experience in business management, now heading up the local Chamber of Commerce. Her talk was overflowing with useful advice and information, it seemed like there was at least 2 hours worth of material being condensed into 20 mins.
Business survival stage can last up to 5 years
A big take away point for me was that a 3-5 year old business is still in its infancy. Rita used a diagram called the Seven Stages of Organisational Development to talk about the stages you go through as your business grows. She explained that you will be in the Survival stage for at least the first 3 years. This made me feel much better about where we are in our business. I think we might actually be ahead of the game (for our age), when I had so often thought we're struggling to keep up!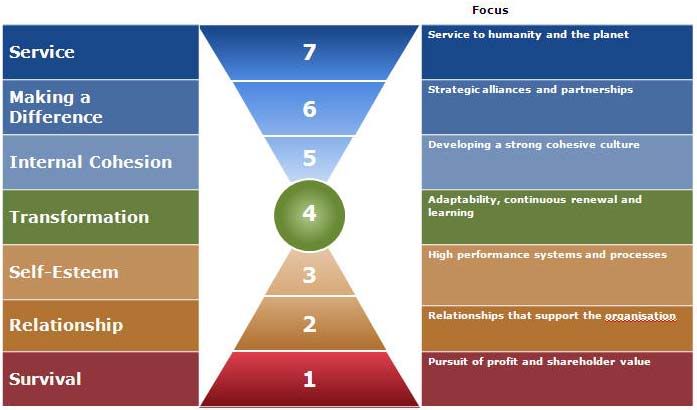 The survival stage is when you focus on financial stability and growth. Later stages are when you start to focus on other things, like at the excellence, productivity and efficiency. We've already taken a look at some of the later focuses which means we are headed in the right direction. Rita advised that you spend 3 years building a solid foundation for your business but developing a framework for the future at the same time.
You'll only spend 50% of your time on the thing you love
When you go start up your own business it is often because you have a specialist skill that you are passionate about selling. Rita Spada pointed out that you will only get to spend 50% of your time doing this, and that 10% of it will be management time (I guess the rest is made up of training and admin etc). This is an important point. You need to be prepared for this in order to save disappointment later down the line. This has been one of the hardest lessons I've had to learn running our business – I quickly discovered I doing more project managing than website development. But if/when you realised this you can organise things in such a way that you get to spend more of your time on what you are most skilled at (by employing administrators/project managers etc – which is what we've done in the last 6 months.
Some other points Rita made which were struck a chord with me were:
…on managing
running a business is a lonely place
there are more questions than you can answer
(but) you get ability to mark you own way in the world
…on networking:
never stop building your network
connect to people that matter
leave a part of yourself behind, something that people will [want to] share with others
This final point from Rita about networking and making connections is a good one:
"Networking doesn't win you business. Networking wins you connections and connections win you business."

Rita Spada
Excellent service and keeping in touch
Up next was Elizabeth Sheldon. She runs a digital forensics company based in MK with clients all around the globe. One of the things Elizabeth emphasised in her talk was planning. Budget for leaner times and plan in quarters (e.g if you know Autumn will be slower for you, set aside some money in the Spring).
Elizabeth talked more about something Rita had touched on, that people do business with people who they like. Customer service is key. People will buy from you not because you have the best product on the market, but because they like you – you give them excellent service.
"Deliver the best service


and you don't have to have the best product"

Elizabeth Sheldon
Elizabeth introduced us to the concept of "Touch 7 times" which claims that you need to make contact with someone (talk, phone, email, meet etc) 7 times before they'll buy from you. This certainly chimes with recent experiences we've had with new business enquiries/sales. Even if it is the potential client who makes contact with you first, you need to follow-up —-court them—before you will make a sale.
Make friends and network effectively
Angela Rhodes has been running her small HR business for over 15 years now. I found I could relate to lots of the things she told us as she talked us through her story so far, like the pros and cons of working from home and the importance of networking.
It was a bit of a revelation hearing about how Angela grew her client base. It sounded a lot like how we've grown ours. An old school or college friend gets in touch. A friend of a friend emails you. Someone you know recommends you to a colleague of theirs. These people, who then become your (happy) clients, all recommend you to other people— their friends, old acquaintances—who in turn recommend you on to others, and so on.
I've always had this feeling that the way we've grown our client base wasn't how 'real' business work.
I thought 'real' businesses got found through search engines and advertising and that we are a little bit sneaky to be carrying on like this. But hearing Angela talk about it in this context, reinforced by Rita and Elizabeth's comments, made me realise we are doing the right thing!
I also realised in talking to Angela afterwards that this new business generation model is in fact an incredibly strong selling point. If you tell potential clients that all your work comes from referrals, they will realise that you are being kept in business by happy customers. This serves as a guarantee of good service. Because if you do a shoddy job, no one is going to recommend you. To find a successful business that isn't paying for advertising means they must be doing lots of things right.
Like the speakers before her, Angela emphasised the importance of networking, but she also made a really useful point. You need to know how network effectively. There are so many networking opportunities [here in Milton Keynes] that you can spend a lot of money and time attending, but you need to know how to make it work. You don't want to just walk up to someone and give them your marketing schpeil. You need to connect with them in another way, on a personal level, before you start talking business. Just try and get to know them and perhaps find something you have in common. You may end up knowing someone socially for years before they come to you for business or find someone to recommend you to.
Take homes: new knowledge, confirmations and bubbly!
The event had a good mix of learning new stuff and confirming things I already know, or didn't realise I new already.
There wasn't much time for networking but there was time for a quick prize draw drawn from the attendees feedback forms. And guess what? I won! Thank-you sponsorship!
(Now why wasn't that luck with me when they drew the lucky winner of an iPad at the New Adventures conference last month?!)